The Universal Creative Arts Ensemble (UCAE) founded by Mr. Robert Dickerson and wife Wanda Dickerson in 1984. It is directed by both of them with the dedicated assistance of their oldest son, Jamal, who is the Chief Choreographer and our youngest son Nasir Dickerson our Assistant Choreographer and Artistic Directors. Jamal's lovely wife, Ronsha is also our Theatrical Production Artistic Director and Atiya Johnson and Ayanna Dickerson our Dance Choreographers and Teachers.
Universal Creative Arts Ensemble is the mother of all of our performing art ensembles which consist of the Universal African Dance & Drum Ensemble, UCC Music Ensembles, UCC Praise Dance Ministry, UCC Cloud Nine Creative Hip Hop Dance, Creative Dance, Aerobic Dance, Modern Dance and Line Dance. In this program we teach the education and history of the African Diaspora, African American History, and the basic history and respect of many cultures in the world.
UCAE has female drill teams as well as classes in Drama, Theatre, Modeling, Fashion Design, Sewing and Hair Design. The members learn the importance of Respect, Love, Expressions, Etiquette, Ethics, Poise, the Nguzo Saba, (7 principles of Kwanzaa by Dr. Maulana Karenga - Creator of Kwanzaa), and many other righteous principles.
UCC Cloud Nine Creative Hip Hop Dance- this dance troupe started in 1984 under our Universal Creative Arts Dance Program. In 2002 Ayanna and Atiya, the daughters of our founders Robert and Wanda Dickerson changed the name of the hip hop style and/or Creative dance to UCC Cloud Nine to give the young ladies the opportunity to express themselves in this type of dance. Today, they perform at many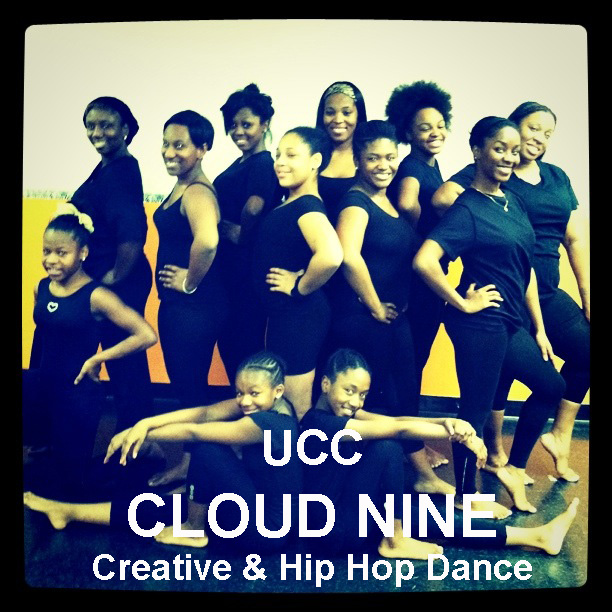 community events.