" Pasha" The Stiltwalker/Dancer
Famous Stiltwalker
"Pasha" the Stilt walker is considered by scholars to be one of the best stilt walkers in America. He has been taught by some of the best teachers in America and taught by the best in Africa. While in Africa, "Pasha" the Stilt walker had extensive, traditional and spiritual lessons. Pasha on african stilts was initiated into the African Stilt walker's Society in Guinea, Africa, which is one of the highest honors bestowed or given to a stilt walker. Our African family in Conakry, Guinea, West Africa enjoyed teaching and sharing their magnificent and unbelievable skills. "Pasha" the Stilt walker has been a member of the Universal African Dance & Drum Ensemble since 1984. With his humble and loving personality he has grown to be one of the best and most exciting stilt walker/dancer in this country. We receive thousands of accolades via telephone calls, letters, e-mails or facsimiles expressing their love and appreciation concerning "Pasha" the Stilt walker. The Universal African Dance & Drum Ensemble has been blessed with long time memberships of five outstanding Stilt walkers. Pasha the Stilt walker has been our premier stilt walker for many years.
While it is tradition that the masquerade or the stilt walker's identity remains a mystery, however, we will let you know that "Pasha" the Stilt walker is a Sixth Degree Master Black Belt, and a National and World Karate Champion. He is also a graduate of the University of the Arts in Philadelphia, Pennsylvania, with a Bachelor Degree in Music Performance and a Master's Degree in MUSIC EDUCATION.
---
Chakaba (Kaki Laanbe) STILT WALKERS
The Good and Healing Spirit in most West African Cultures
Masquerades in traditional African societies represent the beauty and the spirit of our ancestors. The masquerade on stilts, known as "Chakaba" in Western African societies and the Mocko Jumbi in other African/Caribbean societies, is actually the spiritual police of the village or community. The Chakaba (Stilt walker) brings blessings to the festivities. The Chakaba is also used by parents and elders to teach values of discipline and mutual respect. Chakaba (Tallman) called Kaki Laanbe by the Boke and Baga people of West Africa says Chakaba heals women hearts who may have problems and help women with their birth. Chakaba heals you if you are sick.
We should teach the value, purpose and beauty of the stilt walker and African Culture
"Pasha" the Stilt walker in ACTION
Universal African Dance and Drum Ensemble in America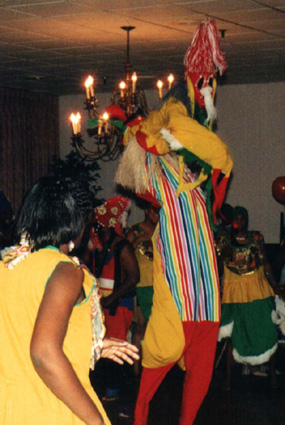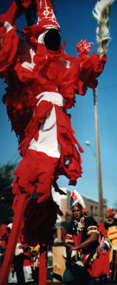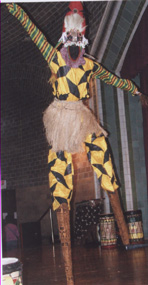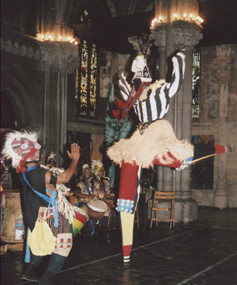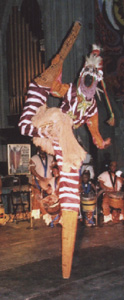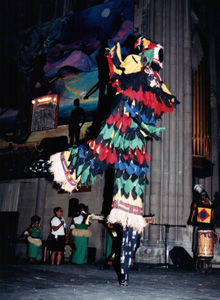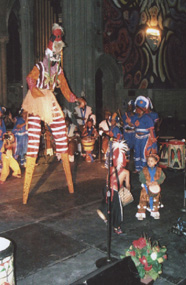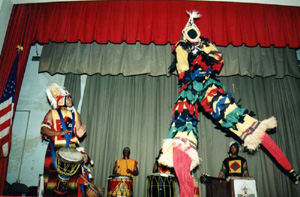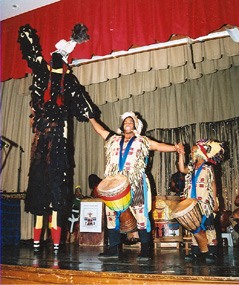 PEACE AND BLESSINGS and THANK YOU VERY MUCH
UNIVERSAL AFRICAN DANCE & DRUM ENSEMBLE